Alliance for Culture, Education and Peace (Colombia)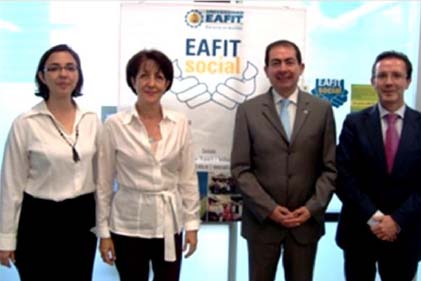 EAFIT University, the Unesco Heritage Club and International Association New Acropolis in Colombia signed an agreement to carry out joint activities in the fields of education, culture and sustainable human development. The signing of the agreement and the inauguration of the Alliance took place on 21st November, with an academic event entitled "A Meeting for Culture and Peace".
At this event, the President of the Unesco Heritage Club, Dr. José Osuna, shared his views through a presentation entitled "Generating Trust in Institutions on the basis of Unesco Values".
From a philosophical perspective, the Director of New Acropolis Colombia, María Ángela Gilardi Polar, gave a presentation entitled "Building Peace on an Ethical Platform".
For more information see the website of UNESCO Heritage http://www.unesco-heritage.org/educacion/educacion/proyectos/553-club-unesco-y-nueva-acropolis-fusionan-contenidos-en-medellin-septiembre-2012.html