Philosophical Culture through Values and Virtues (Ayacucho, Peru)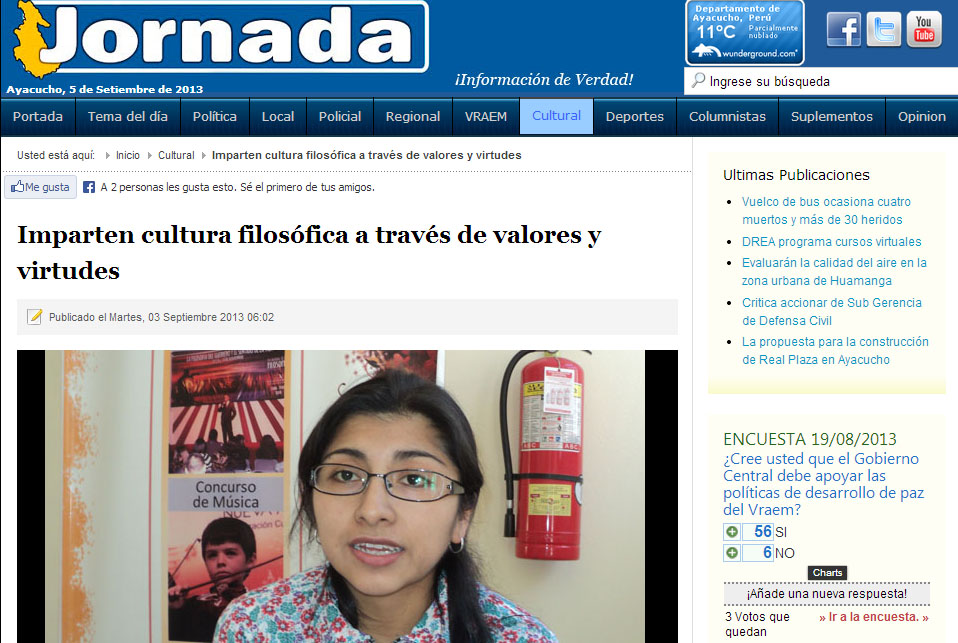 The Ayacucho branch of New Acropolis Peru teaches philosophical culture through values and virtues to the general public through its different activities.
This was the title used by the Jornada newspaper for the interview it published recently with Luz Diana Gomez Prado, the head of advertising of New Acropolis in Ayacucho.
"The topics we address are philosophical, as philosophy empowers people to gain a better understanding of the meaning of their lives, understand why we are here and be able to make better decisions for the future", Gómez pointed out.
In this way, philosophy helps human beings renew their ideas and thoughts, and visualize the future better.
"New Acropolis has been working for 16 years in the city of Ayacucho, and 44 years in Peru, and 56 years worldwide. The courses we teach are two months long, are affordably priced and provide a good preparation for life".
To read the whole article in Spanish:
http://www.jornada.com.pe/cultural/283-imparten-cultura-filosofica-a-traves-de-valores-y-virtudes