New Acropolis Madrid carried out the 3rd Congress of Philosophy in commemoration of World Philosophy Day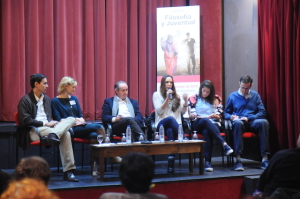 The Congress 'Philosophy and Youth' was held in Madrid to promote the practical role of philosophy in the improvement of the human being and society.
Within the framework of the commemoration of World Philosophy Day, promoted by UNESCO since 2002, the Global Ethics Network, in collaboration with the international philosophical organization New Acropolis, the Sphinx magazine and the Victoria Theater in Madrid, again organized this year a meeting to showcase the more practical side of philosophy. This year's theme focused on 'Philosophy and Youth'.
As artistic-philosophical close to the event, a theatrical performance "The Myth of Prometheus" was presented, in charge of the amateur theater group Prometheus, formed by young people from the center of New Acropolis in Granada, and adapted by themselves based on the texts of Hesiod, Aeschylus, Plato, among others. The adaptation and representation tried to be faithful to the old models of the mysteric Greek theater.