Promotion of World Philosophy Day in northern Russia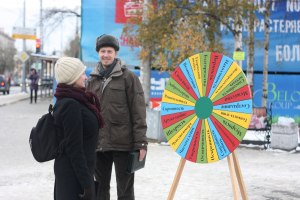 New Acropolis members and volunteers from Saint-Petersburg, Velikiy Novgorod and Petrozavodsk (Northen Russia) held a promotion dedicated to World Philosophy Day. About 45 people took part in the promotion on the streets and squares of these three cities about the necessity of philosophy nowadays.
Participants could also take part in a street-quiz: participants had to answer a question: What  does 'love of wisdom' mean? Participants were also asked to share their thoughts about the importance of values and the search for meaning in the 21st century: 'Are these values alive in our society today? Are they popular? Can we make the world better?' The questions were used as tools to promote the motto of the festival: 'Changing ourselves we change the World'.