Entertaining the children of a daycare with 'Tu-Bi'Shvat' (Tel Aviv, Israel)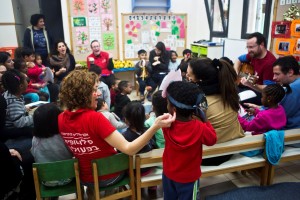 New Acropolis once again had the opportunity to visit the children of immigrant workers of the 'Mesila' daycare in Tel-Aviv. The theme of this activity was 'TU BI'SHVAT' which is a celebration for the beginning of Spring and in this context according to Jewish tradition seeds are planted and fruits are eaten. 'Narcissus King of the Swamp', an interpretation of the Narcissus myth adapted for children, was shared with the children who, during the reading of the Levin Kipnis-based story, actively participated by representing the characters.
An arts and crafts workshop was also held: the children had fun decorating pots with stickers and then planting seeds in them, and decorating grapefruits with dried fruit. The activity ended joyfully with a sing-along session accompanied with guitar.