Launching of the book 'Metaphysical Aesthetics of Photography' in Mumbai (India)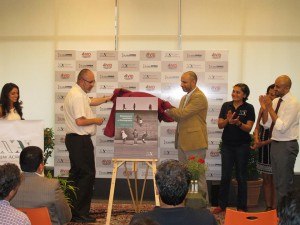 New Acropolis in Mumbai in collaboration with Avid Learning and The Indian Express newspaper, launched photographer and philosopher Pierre Poulain's third book, Metaphysical Aesthetics of Photography. At the launching held at The Gallery at Express Towers, the author talked about his journey in understanding philosophy through the lens of his camera and the ability of photography to give shape to the invisible.
The book was unveiled along with Yaron Barzilay, publisher and director of New Acropolis India, along with the editors and designer of the book. In the Q & A  session with award-winning photographer Amit Madheshiya, Pierre elaborated on the role of art and how experiencing beauty can allow us to come closer to spiritual archetypes. The evening concluded with a book signing by the author.