33rd European Heritage Days at La Cour Pétral (France)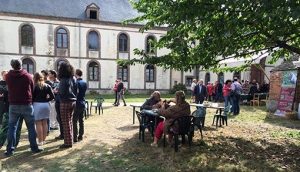 New Acropolis France participated in the 33rd European Heritage Days. On this occasion, the ancient Abbey of La Cour Pétral opened its doors to a large number of people to show them this place full of history.
More than 400 people were welcomed by New Acropolis volunteers and friends of La Cour Pétral, with a program that featured numerous activities: guided tours, presentations of the crafts that are made on site (stone, iron and stained glass workshops), tour of the hives, lagoons and Permaculture project. A wonderful weekend to meet people and share, and an opportunity for all to rediscover a forgotten local heritage!