28th Edition of the Book Fair (State of Guanajuato, León, Mexico)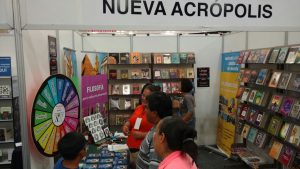 The National Book Fair was held in the city of León, Guanajuato with an attendance of more than 80 000 people. More than 100 publishers participated in this event, including the New Acropolis Publishing House, which made available to the public several of its publications.
A total of 200 artistic and literary activities were carried out, some of which featured the volunteers of New Acropolis, including: "Discipline as a way to success", "Culture of Peace" and "The Shortest Journey" on the magic of reading in life. In addition, a puppet performance "Gua Gua and his Conscience" was presented about the development of values in children.