Award to Philosophy of New Acropolis (Syracuse, Italy)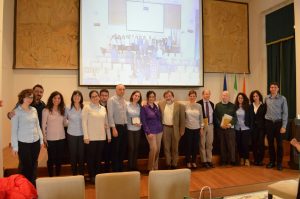 The "Philosophy Award. Trip to Syracuse" was awarded to New Acropolis Syracuse during the fifteenth edition of the Conference of Studies organized by the College of Philosophy of Sicily and held at the Chamber of Commerce of the city. The awarding of the prize was thanks to the theatrical performance inspired by Plato's Myth of Cave, entitled "I'm going out! And You?".
This modern-day adaptation of the Platonic myth invited participants to reflect on the numerous and sometimes hidden illusions that characterize our current way of living and provided suggestions to get rid of the chains that restrict human freedom, through the application of philosophical teachings.
Philosophers Remo Bodei of the University of Los Angeles and Umberto Curi of the University of Padua (Italy) – both members of the jury – congratulated New Acropolis on its commitment to cultural volunteering.