Book launching: "The Everyday Hero" (Mumbai, India)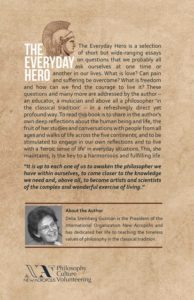 The NA Publishing House launched "The Everyday Hero", a compilation of humanist essays translated into English by the educator, musician and philosopher Delia Steinberg Guzman, president of the International Organization New Acropolis.
In a clear and direct but profound way, the author addresses the philosophical questions that probably we all will ask ourselves at one time or another in our lives. She offers hope and inspires budding philosophers to live with a "heroic sense of life" in everyday situations.