"Philosophy and Art" – a celebration of World Philosophy Day (London, UK)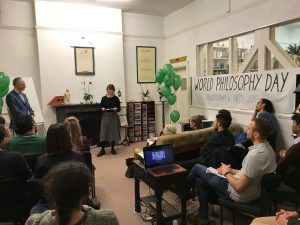 New Acropolis in London chose the theme 'Philosophy and Art' to celebrate UNESCO's World Philosophy Day. A group of volunteers invited passers-by outside London's National Gallery to say what 'Art' meant to them and entered into some interesting dialogues. It was inspiring to find that, for many people, art had been a truly transformative element in their lives. Making connections between philosophy and art, many people saw art as a way of understanding and transforming the human condition.
This dialogue was continued a few days later at an event held at the New Acropolis Centre in London. Different speakers gave presentations on Philosophy in Poetry, Painting, Architecture and Music, giving rise to an enriching evening in which the value of art became increasingly clear.