Plato's cave step by step (Pécs, Hungary)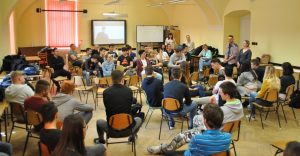 The Széchenyi István High School, invited New Acropolis to participate in the program of the Széchenyi Days with a lecture and staging of Plato's Allegory of the Cave.
'What is real? What you can see, hear, taste and feel? And what about our dreams? Are the intangible emotions and thoughts which govern our actions real?' With the guidance of these and other similar questions, Plato's teachings on inner freedom could be better understood. Finally, a simple game of chairs illustrated the allegory, as everyone tested their own personality, and discovered to what extent one identifies with the passing circumstances.