International Volunteering Day (France)
New Acropolis volunteers were mobilized for International Volunteering Day, with several social volunteering activities in France.
Help for the homeless (New Acropolis Paris, Toulouse, Lyon)
With the arrival of the cold winter, volunteers from New Acropolis walked the streets of their neighbourhoods in search of homeless people, to offer them a moment of humanity, warm clothes and a hot drink.
Picky, Michel, Nicolas, Vincet, Peters, Julia… The words exchanged are sometimes just about a hot coffee. The excuse of offering a hat or a blanket sometimes allows us to start a conversation.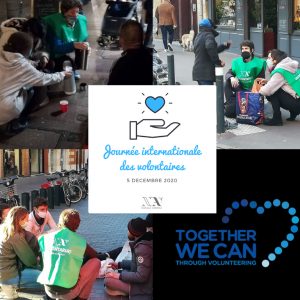 Welcoming families in hospitals (New Acropolis Paris 5)
At the same time, two teams from New Acropolis Paris 5 organised a family reunion at the Broca Hospital and at La Collégiale Hospital, as well as musical entertainment at the latter.
During the pandemic, hospitals are looking for volunteers who can welcome the families wishing to visit their elderly relatives in hospital, under the regulatory health regimen (sanitary barriers, temperature measurements and mask replacement, hand disinfection, etc.).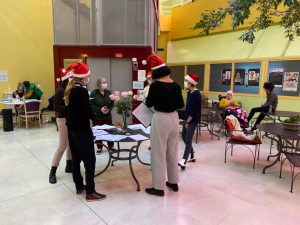 Visiting hospitalized and isolated elderly people (New Acropolis Paris 15)
Last but not least, at Vaugirard Hospital, a team of volunteers from New Acropolis Paris 15 conducted a visit to elderly people either in hospital or isolated in their homes.  An experience that the participants say they are ready to repeat.