New Acropolis volunteers together with Caritas help displaced people in Odesa (Ukraine)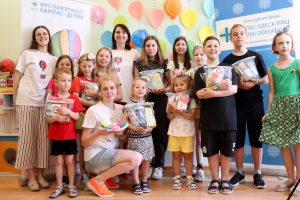 Our volunteer Karina together with the charity "Caritas Odesa UGCC (Ukrainian Greek Catholic Church)" helps to provide food for displaced people at the railway station in Odesa.
Karina is from Mykolaiv, now temporarily lives and volunteers in Odesa. "Many people are arriving. Odesa is a stopover point, then they go on. We have been feeding people in shelters for several weeks," says the volunteer.
On Children's Day, she did a photo shoot for children evacuated from Donetsk, Luhansk and other regions. The most poignant moment was when the children wrote the names of their hometowns on their hearts.
Karina helps to make food packages with cereals, sugar, flour, oil, tea, and sweets for displaced people. She also prepares special packages with baby necessities for parents and packages for people with disabilities.
Everyone's participation is very important now. Together we are strong.