World Philosophy Day devoted to Ukrainian philosopher Hryhorii Skovoroda (Ukraine)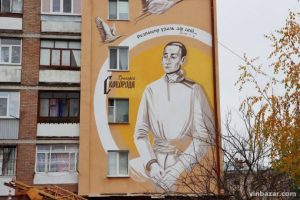 This year Ukraine commemorates the 300th birth anniversary of the national philosopher Hryhoriy Skovoroda.
On the occasion of this date and to celebrate the World Day of Philosophy, New Acropolis organized events in the cities of Ukraine.
Mural, a painting on the building with a large portrait of Skovoroda, was created in Vinnytsia city in partnership with the city council. New Acropolis was also a co-organizer of the exhibition "300 years of Skovoroda" in the Regional Art Museum. In addition, a concert and a lecture on the music of the Baroque era were held as well as an interactive guide to the exhibition.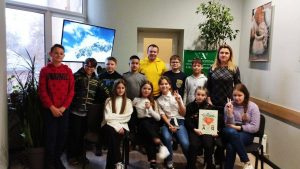 In Ivano-Frankivsk, an Open Space workshop with philosophical activities took place.
In Kyiv, a book diving based on the text "Thankful Erodius" by H. Skovoroda was organized.
In Poltava, the amateur theater "Malafeya" staged Skovoroda's fables. The branch leader Iryna Ovcharenko gave a speech at the Art Museum.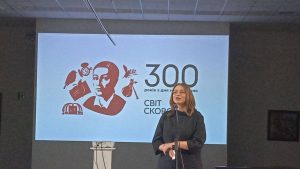 In Kamianets-Podilskyi, New Acropolis together with the State Historical Museum organised a cultural project "Establishing Identity", held the talk "Gryhoriy Skovoroda: a path to happiness" and a round table on the topic of identity. In addition, different excursions took place.
In Dnipro, during the interactive workshop, the topic of happiness was discussed based on the texts of the philosopher. 
New Acropolis in Ukraine will continue to spread the philosophical ideas of Hryhorii Skovoroda described in his treatises, fables, and poems which have many references to classical ancient philosophy.