Exhibition "The impossible IS possible" in Russia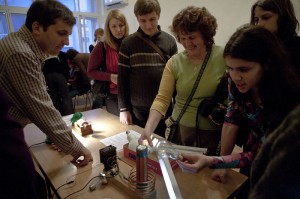 A double celebration by New Acropolis in Russia, which jointly commemorated World Philosophy Day and the 25th Anniversary of its own foundation in this country. Throughout the whole of November, New Acropolis organized a festival entitled "Philosophy for Living", which started in Moscow and continued in 13 Russian cities. The festival was inaugurated with the exhibition "The impossible is possible", which attracted over 600 people in the course of one day.
The different exhibits installed showed in an incredible way how physical laws that are so everyday and commonplace for all of us can come to light. A Tesla coil; non-Newtonian fluid; a levitating electric motor; a bridge designed by Leonardo da Vinci; optical illusions; engravings by Escher, etc. Visitors had the opportunity to experiment with everything and receive help and guidance from the organizers of the exhibition.