Lecture series "Wisdom to live" in Buenos Aires (Argentina)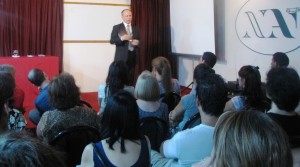 A new lecture series entitled "Wisdom to Live" kicked off the New Year.
NA often organizes Saturday night lectures on a range of topics aimed at drawing out practical and valid advice and elements of wisdom for today's world.
On Saturday, January 7, the National Director of New Acropolis Argentina, Professor Omar Restom, presented a lecture entitled "Why don't we remember our past lives?", with a great response from the audience. Another theme in the series was "How do we develop our own character?", by Professor Alfonso Suriano.