Theatre performance of "Jonathan Livingston Seagull" in Barcelona (Spain)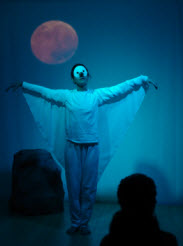 The Dionysus theater group from New Acropolis Barcelona presented a free performance of Jonathan Livingston Seagull, by Richard Bach. The audience enjoyed the highlights of the work on this unique gull, so different from all others.
The performance was met with tremendous applause from the audience, who were warmly appreciative of the Dionysus group, a group of players and volunteers who were able, once again, to promote the reading of 20th century classics.