Wisdom of the Art (Buenos Aires, Argentina)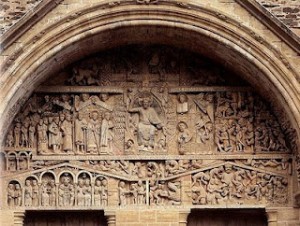 The headquarters of New Acropolis in Argentina gave a lecture titled "How to look at a work of art", issued by the renowned historian Cecilia Balza.
The symbolism in art reveals a special language to understand why this discipline is one of the ways of knowing, linked to the origin of mankind.
The speaker made a tour through different works of art by famous artists such as Da Vinci, Botticelli, Jackson Pollock, Kandinsky, among others, highlighting symbolic details like the "drum" of a church (arcade located on the front door carved wood with different characters). A curious detail is that the main doors of the cathedrals and churches point to the East where the sun rises in a Christian cross, the upper point represents the East (lighting), below the West (dark).