Malik Fest 2013 Performance (Rijeka, Croatia)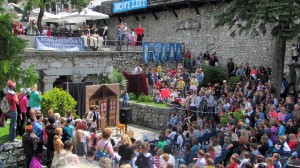 Members of the New Acropolis branch in Rijeka, Croatia, have contributed at the Malik Fest, Festival of myths and legends of Istria and Kvarner, which has taken place at the Fortress of Trsat in Rijeka. Within the Festival many events were performed. On June 2nd 2013, New Acropolis performed a play for youth How Potjeh Sought the Truth, by well-known author Ivana Brlić-Mažuranić, as well as an art workshop for children Thumbelina is waiting for you – you can paint her too!.
Among many members of New Acropolis, about 300 visitors of different age have participated in the eventful program and have given their contribution to the revival of myths and legends.