A letter of understanding and collaboration was signed between New Acropolis El Salvador and the University Alberto Masferrer (El Salvador)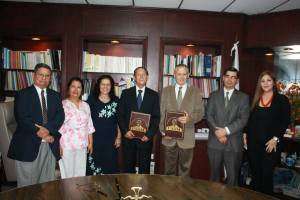 Within the framework of the commemoration of World Philosophy Day, New Acropolis El Salvador and Salvadoran University Alberto Masferrer signed an agreement with the aim of initiating a collaboration between the two institutions.
The USAM pledged to develop a scholarship program for the students who turn out to be winners in the Literary Contest that ACNA (Cultural Association New Acropolis) organizes for World Philosophy Day.
New Acropolis for its part has committed to support the University in educational programs in values and activities that emphasize the importance of volunteerism. Also included  is the teaching of techniques for stress management, and Tai Chi workshops designed for teachers, students and employees of the USAM.