An encounter with scientists from the Institute of Philosophy on World Philosophy Day in New Acropolis Kiev (Ukraine)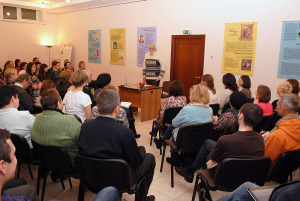 The Kyiv branch of New Acropolis held a meeting with scientists of the Skovoroda Institute of Philosophy of the National Academy of Sciences of Ukraine: Viktor Malakhov, Ph.D., professor, chief researcher, and Tatiana Chaika, Ph.D., research associate, to celebrate World Philosophy Day initiated by UNESCO.
The meeting was far from an academic format, because Prof. Malakhov tried to re-create an atmosphere of the Kyiv philosophical society in the 1970-1980-ies. Tatiana Chaika who held a number of interviews with outstanding Ukrainian philosophers, talked about Sergiy Krymsky, Ph.D. (Honored Scientist of Ukraine) and Vilen Gorsky, Ph.D. (Honored Scientist of Ukraine), both of whom had given several lectures in the Kyiv branch of New Acropolis during their lifetime.
This year, New Acropolis of Ukraine dedicated the celebration of World Philosophy Day to Ukrainian philosophy and its contribution to the philosophical thought of the world.