Celebrating International Music Day (Györ, Hungary)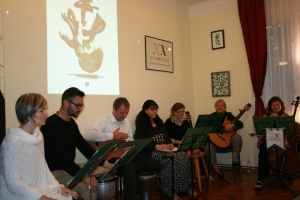 In Győr, members of New Acropolis Hungary celebrated International Music Day with an artistic evening entitled 'Infinite Moments'. The International Day, which was initiated by the famous Jewish violin player Yehudi Menuhin, provided an excellent opportunity to evoke the beneficial effects on everyday life of art, the mediator of Beauty.
During the informal evening, the musical instruments, the rhythms, poems and melodies created such an atmosphere in which, true to Menuhin's intentions, participants could sense the harmonising and unifying power of music, capable of bringing people together.
In this spirit, a presentation was delivered by a well-known visual artist from Győr, Szarka Fedor Guido, whose paintings are inspired by different kinds of music. The evening ended with a joint rhythm session and an informal conversation.