Bike tours in Moscow's center (Central Russia)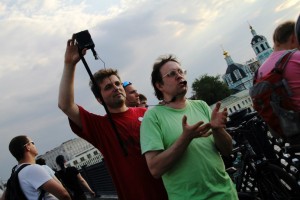 Every weekend in September New Acropolis gathered those fond of city biketours in Moscow. Bicycle is not just an easy way to travel. It is a life style and it becomes more and more popular among young people.
Autumn in Moscow is very colorful and charming and offers wonderful scenery for cyclists' rides on boulevards, quiet lanes, familiar streets and peculiar houses led by New Acropolis tour guides.  During these tours participants re-connect with the history of their own city. They often say that from the bike seat even familiar streets and houses look unusual and interesting.
Excursions typically end at a New Acropolis cafe with a good cup of tea and engaging conversation about philosophy, history and culture.