European Night of Museums (Chisinau, Moldavia, Romania)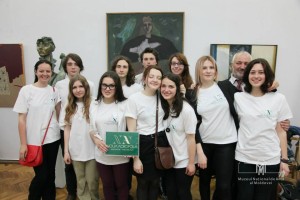 During the European Night of Museums, volunteers from New Acropolis Chişinău animated the atmosphere inside the National Museum of Art with activities of mural painting of Egyptian archaeological reproductions and other cultural experiences.
The European Night of Museums has been a successful event initiated by the French Ministry of Culture and Communication, which this year reached its 10th edition. The event has been traditionally sponsored by the European Council, UNESCO and by the International Council of Museums.
During the entire evening, New Acropolis volunteers demonstrated how Egyptian archaeological reproductions, handcrafted inside the Athena workshop of New Acropolis, could be painted in oil colors. They also used the walls of the museum to project documentary films created by the Altair Film Studio pertaining to the International Organization New Acropolis, which transmit a philosophical message: Florence, On the Trail of the Renaissance Geniuses, The Etruscans, The Myth of Hercules and Marcus Aurelius.
The organizers sent a thank you letter to express their appreciation towards the effort and the availability shown by the volunteering team of the Cultural Association New Acropolis.