Expedition to the sacred places near the Polar Circle (North Russia)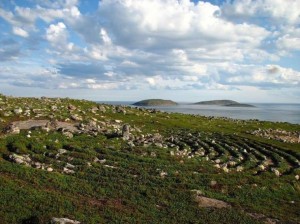 New Acropolis North-Russia organized an expedition to The Solovetsky Islands situated only 160 km from the Polar Circle. The expedition focused on the sacred places of northern Russia where there are 80 labyrinths and about 400 seidhs (stone megaliths weighing up to one hundred tons, often seemingly in a strange state of balance as some are barely connected with the ground, only via two or three points of support).
The participants of the expedition explored a very unique landscape, swam to the surrounding islands with local scientists, became acquainted with the sacred history of the Zayatsky island with the stone mazes, and with the Archipelago Kuzova – the system of granite islands that are twenty-five million years old. In the evenings talks were held on various topics related to the expedition including archaeoastronomy, anthropogenesis, Irish sagas, legends of northern Russia.
Many participants shared this expedition was for them unforgettable and enriching, as much for their knowledge of the world as for their inner life.