Mermoz, Guillaumet, St-Exupéry,… the heroes of airmail transport (Toulouse, France)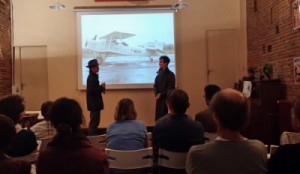 On the occasion of the 70th anniversary of the disappearance of Antoine de St Exupéry, New Acropolis Toulouse paid homage to pilots and postal airmail, whose exploits the writer unveiled through his writings.
Through various activities and theatrical animations, the public was able to recreate this epic situation which could not be achieved without the heroism and dedication of its protagonists, such as Guillaumet, Mermoz and Saint – Exupéry. Bound by a deep camaraderie, these men challenged the technical limitations of the time at the expense of their lives, to transport mail across the continents.