New Acropolis participates in a round table of TV Asamblea (Porto Alegre, RS, Brazil)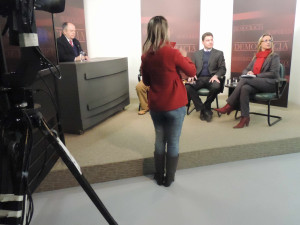 New Acropolis Porto Alegre was invited to participate in a programme of interviews organised by the television space TV Asamblea.
The program addressed the importance of philosophical studies and among other guests participated the professor of philosophy Roberto Giannoukas Sampaio and the educational coordinator of the early years of the Colegio Marista Rosario, Cristiane Granville.
The round table highlighted the importance of the study of philosophy beginning in childhood, and that this could be a practical tool fostering the development of virtues and an inquisitive mind.