New Acropolis participates in NGO Fest (Bucharest, Romania)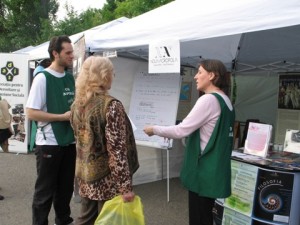 New Acropolis Bucharest participated, as it did in the last years, in NGO Fest, a festival dedicated to NGOs.
By visiting our stand, visitors encountered several ideas extracted from the introductory courses, under the motto "5 minutes of philosophy or more". Visitors also answered some philosophical questions: What would be the most beautiful word you offer to a friend? or Who is man's best friend?. Those most passionate about philosophy reconstructed the image of a philosopher by answering questions related to his life and work.
On the stage of the event, New Acropolis volunteers presented two puppet show performances about Cinderella, very well received by children and their parents.
Also held was a round table discussion on the subject Man and his fears, man and his hopes.