Open House Day in Paris (France)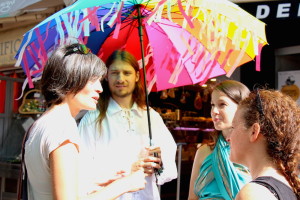 Open House Days for the residents of Mouffetard at the central branch of New Acropolis Paris.
In the morning, philosophers of New Acropolis toured the streets under colorful and showy umbrellas, proposing to passers-by and sellers that they choose a philosophical phrase to serve as meditation for their day.
In the afternoon, in the space The Mill, various philosophical activities were offered: two free workshops, a lecture entitled Socrates, teacher of life and subsequently a Socratic dialogue.