Sonam Wangchuk in New Acropolis Mumbai (India)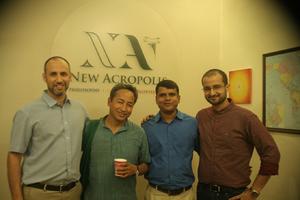 Sonam Wangchuk, a well known educator and social entrepreneur visited the New Acropolis Center in Mumbai for a talk and interview.
Sonam answered the call of the cause of education in Ladakh back in 1988. The Students' Educational and Cultural Movement of Ladakh (SECMOL) was setup as a result. SECMOL lobbied to tailor the educational curriculum to be more suited to the local context of the Ladakhi youth, with very encouraging results. From here Sonam went on to use his education as a Mechanical Engineer to guide and encourage "Solar Building" construction among other socially viable engineering projects. But above all Sonam is an example of an Idealist, who has the courage and drive to pursue actions that fulfill his values.
This event was an opportunity for members and guests to interact with Sonam, but also to put a face to his inspirational story. Sonam described his several projects to work with the challenges in the environment – social, political, educational and environmental.