Together we planted 6000 trees (Cluj-Napoca, Romania)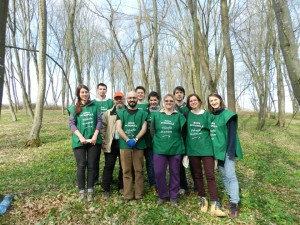 March, the month dedicated to forests, gave us an opportunity to help nature regenerate. New Acropolis of Cluj-Napoca organized together with the Forest District and Transylvania Ecology Club a tree-planting activity in the Hoia forest, near the city.
The challenge was significant, as the volunteers had to plant 6000 pieces of oak seedlings and other precious essences, but it was successfully faced by the 200 participants. As usual, the volunteers from New Acropolis, joined by other participants, were in the middle of the action, full of initiative and enthusiasm.  They did all the necessary work – removing the dead branches from the ground, digging the holes, actual planting etc. – and everyone could learn what it means to plant a tree and how men of goodwill can give back to nature the things that others deprived it of.