Tribute to Rio de Janeiro for its 449 years (Brazil)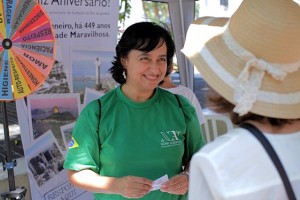 New Acropolis organized a series of events in Nelson Mandela plaza, in Botafogo, to celebrate the 449 years of the Foundation of Rio de Janeiro.
Among other activities, a poetry recital was presented with works inspired by the city itself, from the perspective of different artists. Participants could take home as a souvenir poems that they liked.
A survey was conducted as a means of increasing awareness, asking participants 'What can you do to improve your city? '. They also got to spin a Wheel of Virtues containing 16 virtues, with the proposal of making the virtue they landed on a practical inspiration for their day.