'Vacations for the Self': A week of workshops dedicated to creativity as an alternative to consumerism (Austria)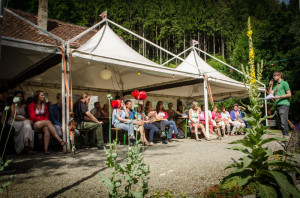 Seminars including archery, Ikebana, "Commedia dell'Arte" theatre were part of the creative week organized by New Acropolis Austria in which participants had many opportunities to develop their creativity.
About 200 people of all ages attended the workshops at the Mathildenheim Centre in St. Stefan ob Leoben. An enriching experience for participants, apart from attending the creative activities, was working together and practicing team-building and organizational skills (cooking, cleaning turns) and of course practicing the art of living together.