Visit by a group of volunteers from New Acropolis to the children's unit of the psychiatric hospital in Yekaterinburg (Russia, Urals)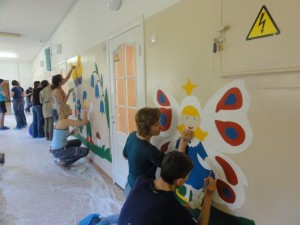 Close to the date on which International Children's Day is celebrated, a group of students and volunteers from New Acropolis visited the children's unit of the Regional psychiatric hospital in Yekaterinburg. Within just a few hours the hospital's gloomy corridors were transformed into a colourful scene for the characters from famous Russian tales and cartoons. Volunteers presented a theatrical performance entitled "Oh! and Ah!" It was a story about two friends, one of them very cheerful who enjoyed everything, while the other one was always sad and continually suffering. This was a story about how to see things optimistically and with a smile. It showed that real friends are always ready to help you out of any trouble.
The future plan is to return to the hospital with classes for children, which will help them to learn more about the world and themselves, and to promote friendship.