3rd Latin American Intercultural Encounter (Venezuela)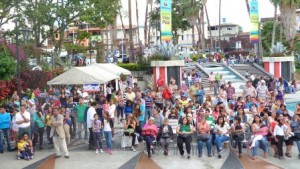 New Acropolis Venezuela carried out the 3rd Latin American Intercultural Encounter, held in the vicinity of Las Heroínas Plaza, in the city of Merida. About 400 people participated in this cultural encounter that featured:
the gastronomic tasting of typical dishes such as the Argentine alfajores, Peruvian picarones, Chilean empanadas, the Ecuadorian tigrillo and Paraguayan chipa guazú , to mention a few;  as well as the traditional music of the continent and its typical dances such as the tango of Argentina, the guainito of Bolivia, the lambada of Brazil, the cueca from Chile, the Cuban salsa, the pericón nacional of Paraguay, the Peruvian waltz and the Venezuelan joropo.
All this was carried out by volunteers, students and friends of New Acropolis, who managed to capture the attention of attendees and passersby during the 3 hours and a half duration of the event.