Ancient Egypt: Imagination, Thought and Creation (Arad, Romania)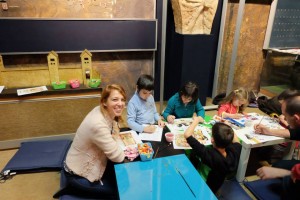 New Acropolis Romania inaugurated the exhibition Ancient Egypt: Imagination, Thought and Creation.
Participants were invited to discover Ancient Egyptian's knowledge regarding medicine, architecture, religion, politics, art and science, and knowledge regarding man and the laws of the Universe, and also learn about Egyptian philosophy regarding life and death.
The event was carried out in collaboration with the Museum of Arad. Following the opening of the exhibition, participants could attend the lecture entitled The Myth of Osiris, presented by Monica Varga.
Children also participated in a painting workshop and in games based on the themes of the exhibition.
Adults viewed three documentary films which focused on the everyday life seen from a philosophical point of view and on the spiritual dimension of the Egyptian Universe.