Celebrating 'Hanukkah' with a community of veterans (Tel Aviv, Israel)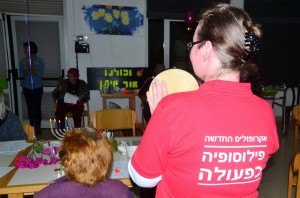 We celebrated 'Hanukkah', the Jewish feast of lights, with the community of veterans of the nursing home 'Tzahalon' in Tel Aviv. The celebration began with the popular story of the Buddha and the elderly woman with the oil lamp at the Sermon of Benares.
After a pleasant exchange of shared life experiences, the celebration ended with the lighting of the 'Menorah' and 'Hanukkah' songs. It was an unforgettable event that lifted the spirit of both the veteran residents and volunteers!