Cycle of activities: 'Music and Philosophy' in La Paz and Santa Cruz (Bolivia)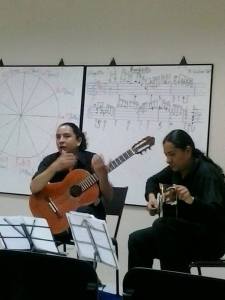 The cities of La Paz and Santa Cruz conducted a cycle of activities entitled 'Music and Philosophy'.
The program featured a series of workshops, lectures and didactic concerts to increase awareness of the basic concepts of music – the elements that compose it, knowing how a score works and which parameters a composer utilizes to create – and how it influences human beings.
There were also several concerts of classical, contemporary and Latin American music with a rich guitar repertoire at the hands of guitarists Daniel and Marcelo Gonzales. The lecture 'Rock & Philosophy' closed this cycle, along with the projection of the opera The Magic Flute by W.A. Mozart.