'Everyone Can – Draw': charcoal drawing workshop (Mumbai, India)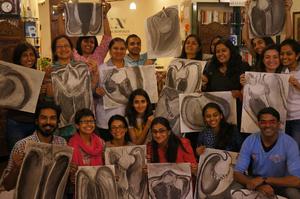 The New Acropolis Center in Mumbai held a 2-hr workshop called Everyone can – Draw.
This workshop was the first of a series of so-called Everyone Can workshops related to different subjects.
19 enthusiasts learned to draw with charcoal, a unique medium for working intimately with artwork, by drawing directly without the need for a brush or pencil. The workshop focused on basic skills and fundamentals.
The workshop was conducted by artist and educator Shital Mehta, an alum of the J.J. School of Arts, Mumbai. She has worked for over 20 years in the field of art education, for kids and more recently for an adult audience.
She also runs a center called 'Apun ka Club' for children in slums which gives the kids access to teachers of various disciplines including art, languages and physical education.