Short story contest in commemoration of World Philosophy Day (Moscow, Central Russia)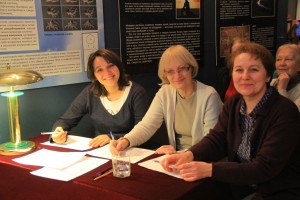 New Acropolis in Moscow held within the framework of World Philosophy Day a short story contest.
The theme of the contest was "We are changing – the world is changing". For the final round 10 stories were selected that had been examined by the jury according to the following criteria: topic development, relevance, versatility, style and performance. The jury had a very difficult task – the stories were great and very different. There were real life stories told by the authors, essay-reflections, stories in fantasy style,  stories about well known people presented in the first person. Some stories were just read to the audience, others were transformed by the author into an artistic presentation. The evening was remarkable… with its atmosphere of collective creativity, and shared experience of participants – so  different and beautiful – each in his or her own way.
This evening has once again shown us that in the life of any one of us at any time there exists the possibility of changing the world. The main thing is to want to do this.