Lecture by Bertrand Vergely in Biarritz (France)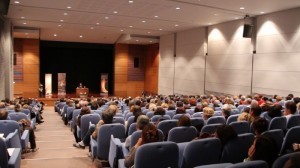 After the lecture by Bertrand Vergely entitled Become what you are, the philosopher led a day-long workshop that brought together around 70 people to deepen the teachings of the lecture.
Creating transforms us and appears as a primordial essential state in which we can discover our celestial roots… In a metaphysically under-developed society, where we are separated from ourselves, from this inner presence, from this infinite life, we truly suffer.
It is therefore vital to free ourselves from the culture of the 'triumphant ego' in order to do what we need to do within us deeply … it is only then that the world will change.