Memorial evening dedicated to the philosopher Giordano Bruno (Moscow, Central Russia)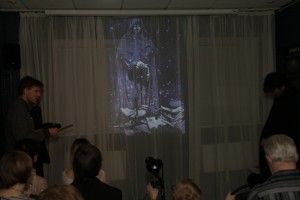 New Acropolis Moscow organized a memorial evening dedicated to the 415th anniversary of Giordano Bruno's death.
The first part of the event had a quite unusual format. An open debate was held on whether Giordano Bruno should have recanted part of his statements or not. Two 'teams' evaluated the arguments for and against the possibility of Bruno's recantation. For most of the participants this was the first experience of a public debate, relying upon Bruno's beliefs.
The second part was a composition based on the works of Giordano Bruno and his investigation case. During the evening attendees heard the words of prosecutors and the words of the philosopher, music, meaningful images, and everyone recalled this hero of the past, who, even under penalty of death, did not renounce his ideas and beliefs.