'MISTICUSS': music, dance and poetry of the Mediterranean (Almería, Spain)
New Acropolis Almeria presented a show of oriental fusion called MISTICUSS.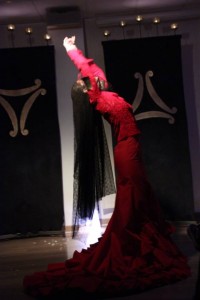 In charge of Gloria Godoy, dancer and dance researcher from Cordoba, this project of music, dance and poetry delved into the mystical-oriental roots that influenced our western culture.
Taking a voyage through different geographical areas such as ancient India, Persia, Egypt, Greece and other cultures, participants had the opportunity to connect with beauty through a "feast" for the senses: the stage illuminated only by candle fire, music used by Sufi mystics, the smell of incense, the colors of the fabrics striving to follow the body movements of the dancers in their dances… All this helped merge attendees with the stage as if they were part of the show itself.