New Acropolis participates in the first simulation of a risk situation promoted by Civil Protection (Florianopolis, Brazil)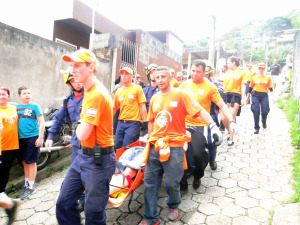 New Acropolis volunteers in Florianopolis, acting as agents of Civil Protection, attended the first disaster preparation drill. The New Acropolis "civil protection volunteer agents" began their training shortly before midnight, when all were activated to be in a state of alert. At 4 o'clock in the morning they received the emergency call and gathered at the Civil Defense headquarters to go from there to the place of action.
The exercise aims to empower those who might be involved in a real situation of disaster. According to Eduardo Silveira Peduzzi: "It was very important to work with the various institutions and the community in an operation like this. It is good that we have this synergy, since in a real situation that will be a determining factor to save lives".
New Acropolis Florianopolis currently has 22 agents and a group in training by New Acropolis trainers, representatives of the City, the Association of Geologists and Civil Defense.