New Acropolis volunteers bring joy to the 'Refugio de Esperanza' Home (Bolivia)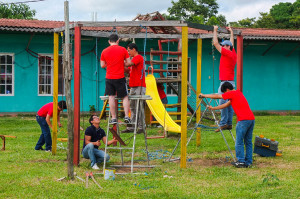 The Home "Haven of Hope" was visited by New Acropolis volunteers.
Volunteers helped repair games that were damaged, engaged youths in arts and crafts, held an astronomy session in the mobile planetarium and created a vegetable garden so that children could sow and harvest their own vegetables. Gifts were also offered and played with. The director of the Home Gladys Jimenez thanked volunteers for their visit and invited New Acropolis and other institutions to continue with this kind of support that brings skill and esteem-building to the young.