Philosophical 'competition' in Budapest (Hungary)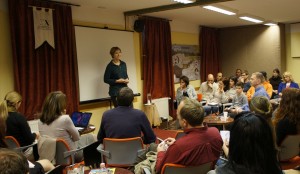 'If you change, everything changes': with this motto, New Acropolis Hungary carried out its first  Slam Philosophy contest in Budapest. Speakers, which included a 15-year-old college student, a young rap fan, a journalist, and a university professor, had five minutes to present their thoughts on the importance of self-motivated change.
While the jury, presided over by a prize-winner of several Slam Poetry contests in Budapest, was trying to reach a decision, the audience discussed the topic on the basis of slam speeches and philosophical quotes. Besides giving awards to the most expressive speakers, the jury highlighted the merits of the five best speeches.