Philosophy Days (Timisoara, Romania)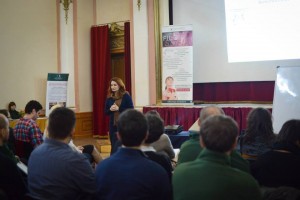 This year's theme for 'Philosophy Days' was Philosophy and Science. The varied program included lectures, an exhibition with a guided tour for high school students and a theater performance 'The Problem of the Universe'.
The event offered an opportunity to better understand the importance of Antiquity's valuable ideas and the way these later contributed to remarkable scientific progress. The lectures noted that many of these ideas are still waiting to fully blossom, especially in regards to individual ethics and sociopolitics.
Other topics which were addressed were Intuition and Rationality, and the logical reasons for an acute need of Philosophy in the modern-day world.
Our thanks to all those who helped us: Cercul Militar Timişoara, Timis County Council and the Timisoara City Hall.