'Plato 24': 24 hours of uninterrupted reading (St. Petersburg, North Russia)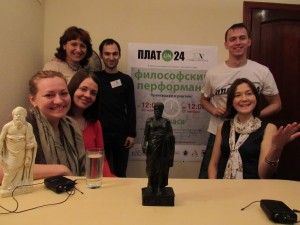 Second edition of Plato 24 organized by New Acropolis St. Petersburg and dedicated to World Philosophy Day.
Plato 24 consists of 24 uninterrupted hours of Platonic dialogues and its live transmission on YouTube. For this purpose a filming studio was utilized whereby two participants read the texts in the dialogue format that Plato always used and in which one of the partners portrayed Socrates. Dialogues from several works of Plato were read including Phaedrus, Phaedo, Symposium, Republic, Apology of Socrates.
The purpose of this project was to draw public attention to timeless human values, and the works of Plato are a great place to find them!