Symbolism of the Angel of Independence with high school students (Mexico)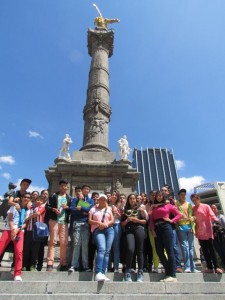 With the purpose of rescuing the deeper meaning of the Column of Independence, New Acropolis Mexico City presented a talk to 80 high school students about its symbolism.
The talk highlighted the Column's sacred architecture and students discovered the nine levels of access to the monument, the union of the sacred and the terrestrial in the conjunction of the circle and the square, symbolism of war and peace as well as law and justice, the flaming torches at each corner of the magic square, the symbolism of the lion and the genius, the meaning of the column with its three rings: fame, the Palm and the crowned capital. At the top of the Column: the Goddess of Victory, the winged Nike.